Every homeowner is aware that careful carpet cleaning involves much more than simple vacuuming. Occasionally, a carpet requires a deep pore cleaning, which makes the surface appear even more hygienic and pleasant. Hygiene, which is made possible by the employees of our professional carpet cleaning in Leipzig.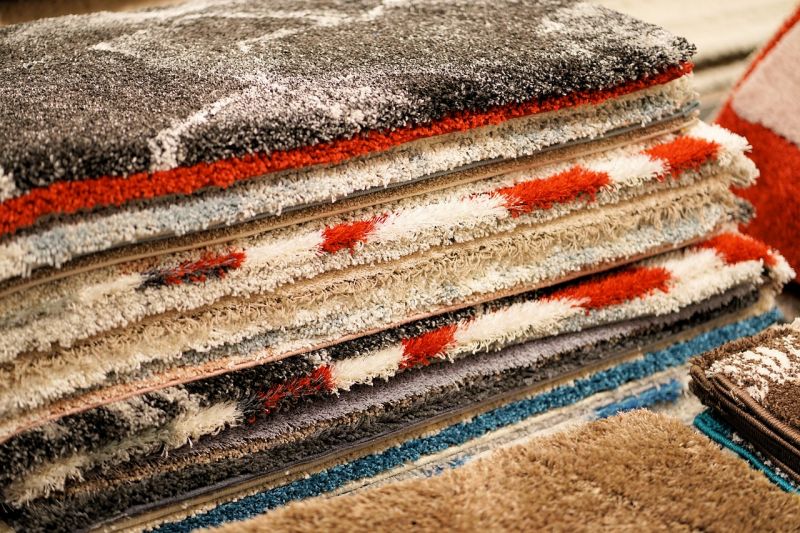 Do you value high quality and reliability? Then our carpet cleaning in Leipzig is your right choice. We are there for you when the best is just good enough for you and you do not want to accept any compromises for the cleaning of your carpets or upholstered furniture. You can reach us in Leipzig via the TTM branch in Merseburger Straße. Do you have any questions about our services or offers? Then please do not hesitate to contact us.
As a special service, we offer you our convenient delivery service in Leipzig and the surrounding region. Arrange a pick-up appointment for only 20 euros one-time transport costs or contact our partners in Leipzig.
>>> TTM | Filiale Leipzig
Merseburger Str. 200
04179 Leipzig
Mo to Fr from 9 a.m. to 4 p.m.
Phone: 0341 / 4422230
Fax: 0341 / 4422013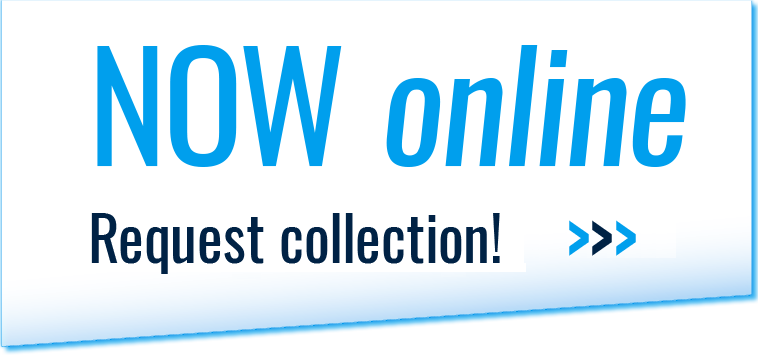 Do you have questions?
Call us at our main office in Freital
Mo to Fr from 8 a.m. to 6 p.m.
Phone 0351 / 649 40 40
We are a professional team that specializes in carpet cleaning in Leipzig. It is particularly important for us to make the right choice of equipment for the cleaning work of your carpets. We are aware that every employee must be familiar with the specifics of different materials. We also meet this challenge. With us, you are turning to a certified master craftsman who will carefully and professionally clean your carpets, oriental rugs, or upholstered furniture. Let your carpet be cleaned by our experienced experts in Leipzig.
Since individual cleaning of your carpets is close to our heart, we offer different variants of carpet cleaning in Leipzig. Special machines are used on-site. Each carpet is separately inspected before cleaning and individually processed. Trained personnel supervises the entire cleaning process. A cleaning including pick-up and delivery service in the Leipzig area is part of our portfolio. Depending on the upholstery or carpet, we use the appropriate methods, or particularly gentle cleaning approaches, to ensure the best results.
We are the right contact for carpet cleaning in Leipzig if you put great value in attributes such as high performance or flexibility. Benefit from our know-how, and services such as an on-site consultation or the pick-up and delivery service in Leipzig, so that your carpets will soon shine in new splendor. Choices from five different cleaning systems, cleanings according to RAL regulation 991A2, or individual treatments of each carpet are only a part of our strengths. Do you wish to make use of services such as our emergency carpet service, rental mat service, or stain treatment? No problem! Even then we are there for you in Leipzig and the surrounding area. Let your carpet be cleaned by the DTR specialists.
Always there for you– DTR carpet cleaning is present in the following Leipzig districts
Abtnaundorf . Althen . Anger . Baalsdorf . Barneck . Barneck . Böhlitz . Bösdorf . Breitenfeld . Burgaue . Burghausen . Cleuden . Connewitz . Crottendorf . Döbschütz . Dölitz . Dölitz . Dösen . Ehrenberg . Engelsdorf . Eutritzsch . Eythra . Flickert . Göbschelwitz . Gohlis . Göhrenz . Gottscheina . Großmiltitz . Großwiederitzsch . Großzschocher . Großzschocher . Gundorf . Hänichen . Hartmannsdorf . Heiterblick . Hirschfeld . Hohenheida . Holzhausen . Kleinmiltitz . Kleinpösna . Kleinwiederitzsch . Kleinzschocher . Kleinzschocher . Knauthain . Knautkleeberg . Knautnaundorf . Kulkwitz . Lauer . Lausen . Leutzsch . Leutzsch . Liebertwolkwitz . Lindenau . Lindenthal . Lößnig . Lusitz . Lützschena . Meusdorf . Meusdorf . Mockau . Möckern . Mölkau . Neblitz . Neureudnitz . Neuscherbitz . Neusellerhausen . Neuschönefeld . Neustadt . Neutzsch . Paunsdorf . Paunsdorf . Petzscher Mark . Pfaffendorf . Plagwitz . Plaußig . Plösen . Portitz . Probstheida . Quasnitz . Rehbach . Reudnitz . Rosental . Rückmarsdorf . Schleußig . Schönau . Schönefeld . Seehausen . Sellerhausen . Sommerfeld . Stahmeln . Stötteritz . Stünz . Thonberg . Volkmarsdorf . Wahren . Windorf . Windorf . Zuckelhausen . Zweinaundorf
What our customers say about our cleaning service in Leipzig " Reviews on Google Maps
Liane Lenz
Ich kann diese Firma, mit wirklich gutem Gewissen weiterempfehlen.
Wir sind sehr zu frieden. Besonders hat uns gefreut, dass die Kanten neu gekettelt wurden und das mit einem Naturfaden. Also reine Handarbeit !!
Ich wußte gar nicht, dass es da Unterschiede gibt, aber der GF Herr Möller klärte mich auf und so haben wir uns für die Variante "Einfassen per Hand und der entsprechenden Wollfarbe, entschieden. Der nächste Teppich "landet" bestimmt wieder in der Teppichreinigung DTR.
Daniela Özdogan
Immer wieder absolut Top. Dieses Unternehmen kann ich zu 100 prozent weiterempfehlen. Vielen Dank
Marion Malioni
Wir hatten unseren älteren IKEA Naturfaser-Teppich unter dem Esstisch schon fast aufgegeben, aber leider ist dieses Modell nicht mehr lieferbar. So haben wir uns entschieden, ihn nochmals reinigen zu lassen. Ein kleiner Unfall mit Bratensoße war trotz aller Bemühungen nicht wegzukriegen. Der Teppich war erst vor einem Jahr bei einer anderen Firma gereinigt worden, kam aber ziemlich grau und trostlos zurück. Nun dachten wir doch, wir bräuchten einen Ersatz. Das denken wir jetzt nicht mehr, er ist frisch, wieder cremeweiß und sieht super aus. Wir haben ihn gleich mit imprägnieren lassen und jetzt wird er wohl noch eine längere Lebensdauer haben. Vielen Dank für den super Service, auch das Holen und Bringen hat prima geklappt, perfektes Timing.
Our carpet cleaning procedure in Leipzig
To begin with the procedure, you may select a pickup date and book that date. Then your carpets will be picked up by our employees. Afterward, we perform professional carpet washing for carpets as well as oriental carpets in the Leipzig area. In the first step, a comprehensive incoming inspection is carried out. As part of this inspection, we photograph the pile and record important data such as dimensions, type as well as quality. The pictures and the processing status can be viewed online by every customer at any time. We are also happy to send you the pictures electronically. Afterward, we thoroughly and gently remove excess dust and sand particles from the carpet. Using soap, plenty of water, and soft rotating brushes, we then carry out a deep-clean pre-wash with our wide carpet washing system in Leipzig. This intensive stain pre-treatment is essential to achieve a particularly good result in carpet cleaning.
Details of the rinsing of the carpet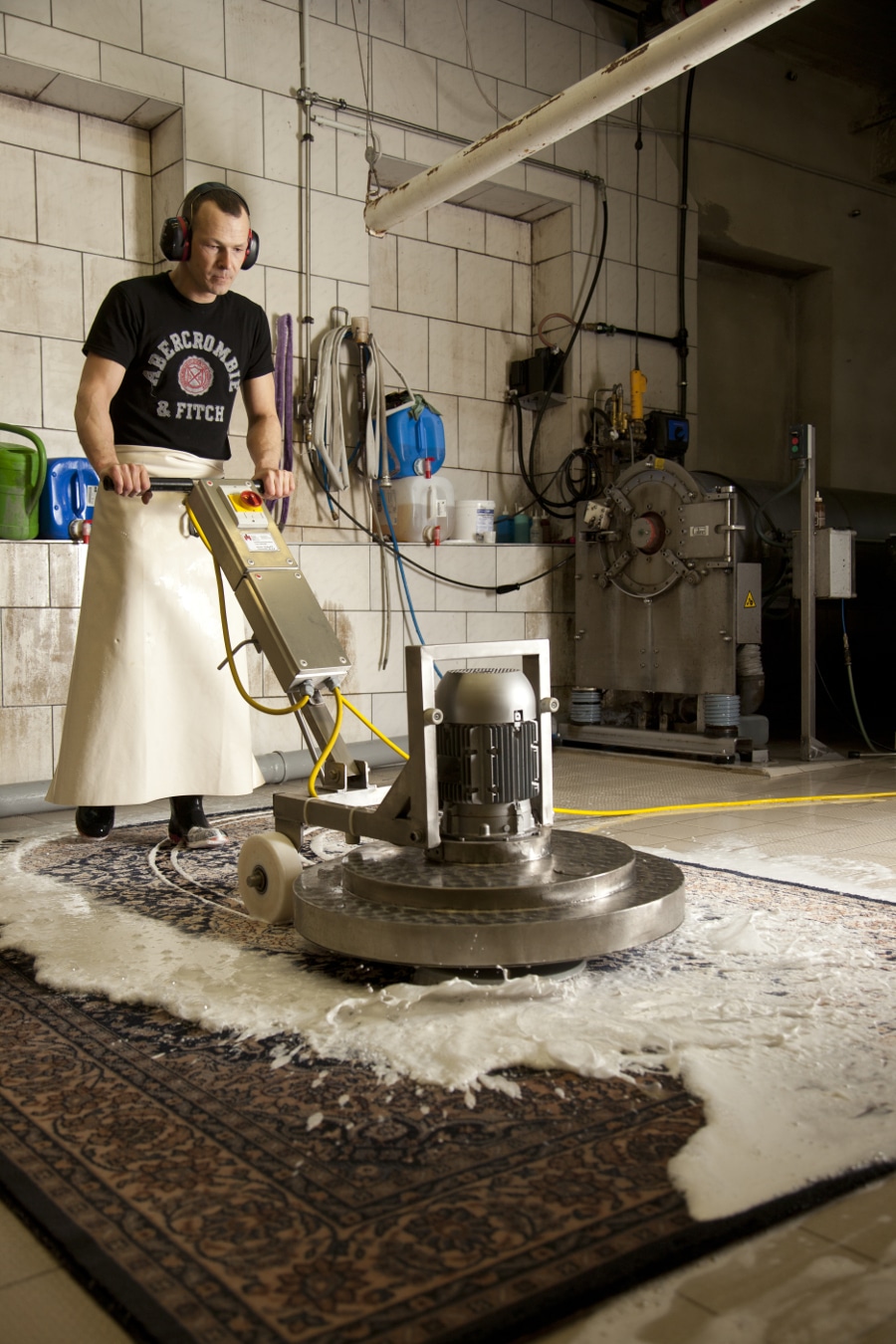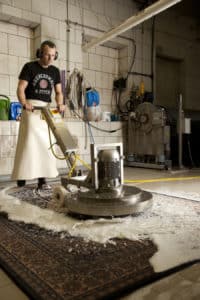 Thorough rinsing of the loosened dirt and soap with clear water is very important for the cleaning process of the carpets. After all, careful rinsing forms an important basis for obtaining clear radiant colors again. It also reduces the risk of re-soiling the carpet. In the next step, we dewater the carpet in a centrifuge. This centrifuging process ensures that the residual moisture of the carpet is reduced to around 30 to 40 percent. During this process, it is especially important that the carpet does not buckle. After the spinning process, you can have us apply a finish to the carpet if you wish. This fabric finish not only acts as protection against stains and moth infestation but prevents antistatic charging at the same time.
A gradual drying of the carpets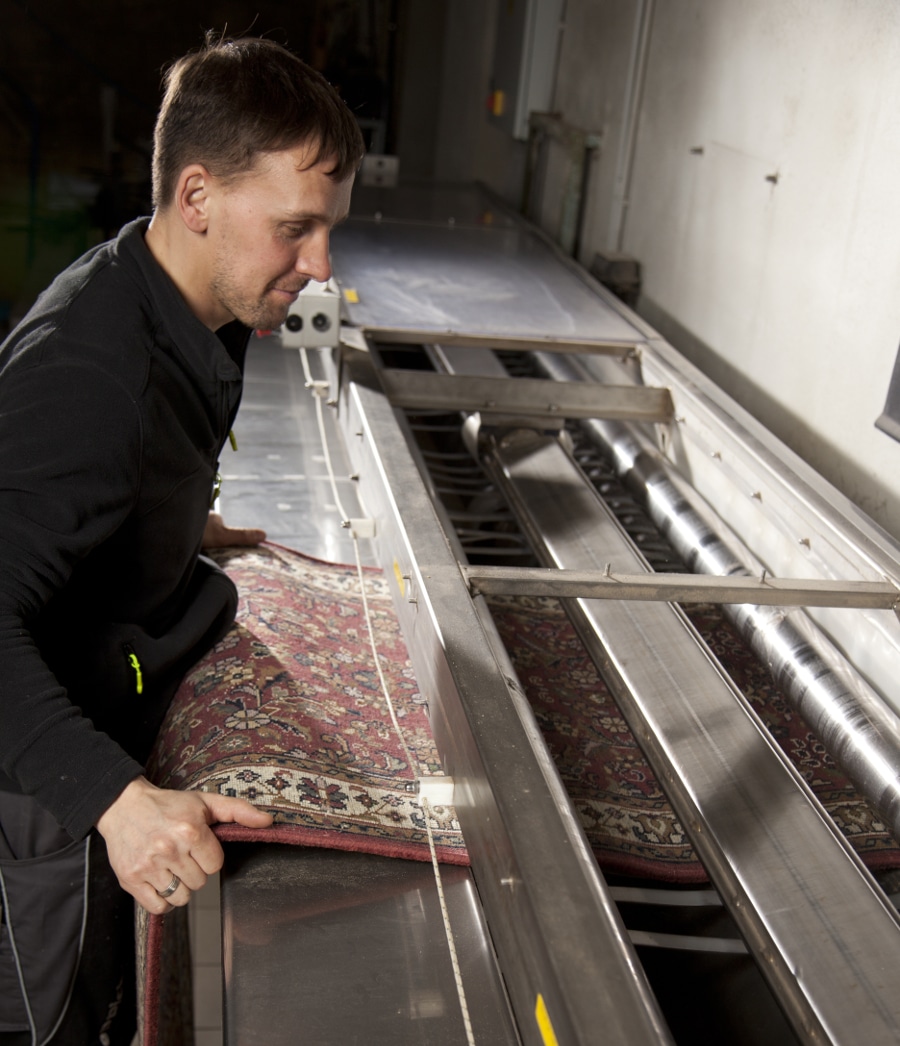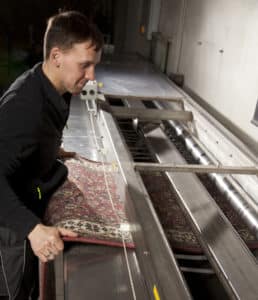 We then hang the carpets in our drying room at gentle temperatures of 30 to a maximum of 55 degrees Celsius. In this place, we dry each carpet after cleaning hanging and with the help of constant circulating air. During this process, moist air is continuously extracted on the one hand. Simultaneously, fresh, preheated air is constantly supplied to the carpet. Before the final inspection, we brush the floor covering again thoroughly in the direction of the fibers. Finally, we subject the dried carpet to a final check. In this inspection, we check once again in detail whether the result of the washing indeed meets our high standards. Finally, we roll up the carpet. We spare no effort to ensure that the carpet is returned to you on the desired date.
Step by step to a clean carpet: Procedure of carpet cleaning in Leipzig
choosing a collection date and completing the associated booking

collection of the carpet in Leipzig and surrounding localities

professional carpet cleaning (including pre-cleaning, spinning in the centrifuge, application of a finish, gentle drying, and final inspection)

return delivery or collection of the carpet after seven days at the latest
Here you can find our collection points in Leipzig

FAQs about your carpet cleaning in Leipzig
Tips & help for fresh soiling
What can you do to minimize the damage before hiring a carpet cleaning service?
Fresh stains on the carpet: what to do?
A small moment of carelessness is enough to stain your carpet. It is best to clean the carpets while the stain is still fresh. Some of the impurities will be completely removed in this way. Otherwise, these measures will keep the damage small before you hire carpet cleaning.
Clearwater and cloth to the rescue
Generally, stains that develop on the carpet are best removed when the stains are still fresh. There is no all-purpose remedy to clean the carpet. Each stain and fabric require different conditions. However, in most cases, placing a thick towel on the stain and then drizzling clear water on it is helpful for efficient carpet cleaning. This method allows the liquid to soak the stain directly into the towel. It is important to dab the stain at most and not pat or rub it.
Hands off of dishwashing detergents and mild detergents
Generally, it is advisable to first scrape off solid stains on the carpet with the back of a knife. When cleaning the carpet with an absorbent cloth and lukewarm water, it is helpful not to use dishwashing detergents and mild detergents under any circumstances. These detergents often leave sticky residues in the carpet, which in turn are difficult to remove. After cleaning the carpet, it is recommended to blot the flooring with an absorbent cloth. Good to know: It is recommended to work with the grain.
The main home remedies for stains
Although water is usually the best remedy for stains, various household products can also be used for different types of stains. While an instant cure with a lukewarm mild detergent solution is recommended for removing coffee stains, salt or white wine can be used to remove fresh red wine stains. Ballpoint pen marks should be dissolved with warm lemon juice for carpet cleaning, if possible. Instead, for a surface burn stain, run a piece of sandpaper over the stain in a circular motion until it disappears completely. For other fresh stains, baking soda is suitable. If all these measures do not bring the desired success, you should have the carpet professionally cleaned by providers in Leipzig or other cities.